Vegan Vanilla Heart Waffles – Holstein Housewares + House of V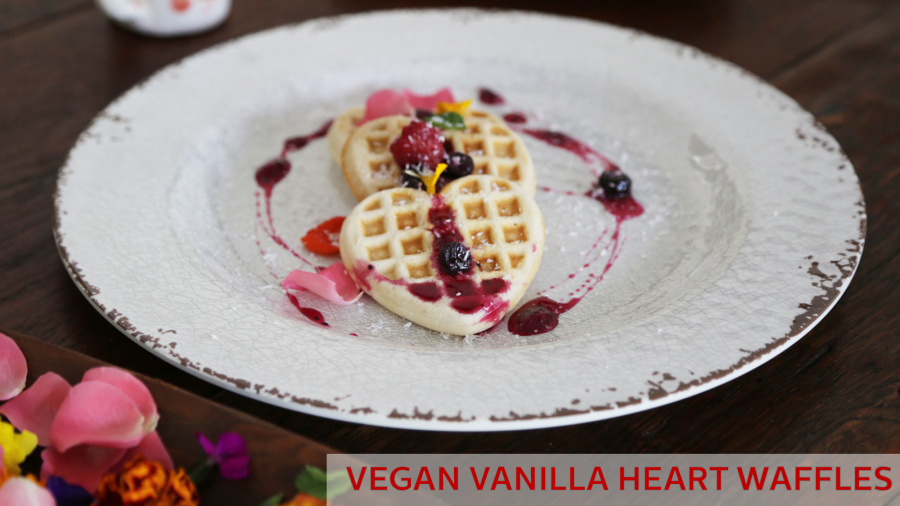 The House of V always has such delicious & gorgious recipes to show us how to prepare in our makers. This time she showed us how to make golden Vegan Vanilla Waffles in our Holstein Heart Waffle Maker. She also included a bonus recipe for a to die for berry sauce!
Watch us make ours in this quick video or scroll down for the full recipe. Be sure to subscribe to our Youtube page for more recipes & tips!
Ingredients:
200gr all purpose flour
3gr salt
165gr almond milk
50gr aquafaba
50gr sugar
5gr baking powder
1 vanilla bean
50 grs maple syrup
Use your
to make the Aquafaba, just use the liquid of a garbanzo bean can , and beat it as if it were egg whites, adding the 50grs of sugar very slowly until they are white and form hard peaks(about 5 min). Then set them aside.
In a bowl, mix the flour,  baking powder and salt together.
Then add the almond milk, maple syrup, vanilla.
Slowly then mix in the aquafaba.
Once you have the batter ready, pour the batter into your Holstein Batter Bottle and squeeze the batter into your pre-heated
filling in each of the cavities.
Allow to bake for 7 minutes.
BONUS: Berry Sauce Recipe
Ingredients:
100grs of mixed berries ( blue berries, strawberries, black berries)
100 grs of sugar
Steps:
In a small sauce pan mix the berries and the sugar on medium heat, for about 5 min or until the sugar is completely dissolved and the consistency is thick like syrup.
Once your waffles are cooled, pour your berry sauce over them & enjoy!
Share with us your favorite recipes on
Facebook
.
---