Holstein Housewares' Creative Skull-Shaped Pancakes Recipe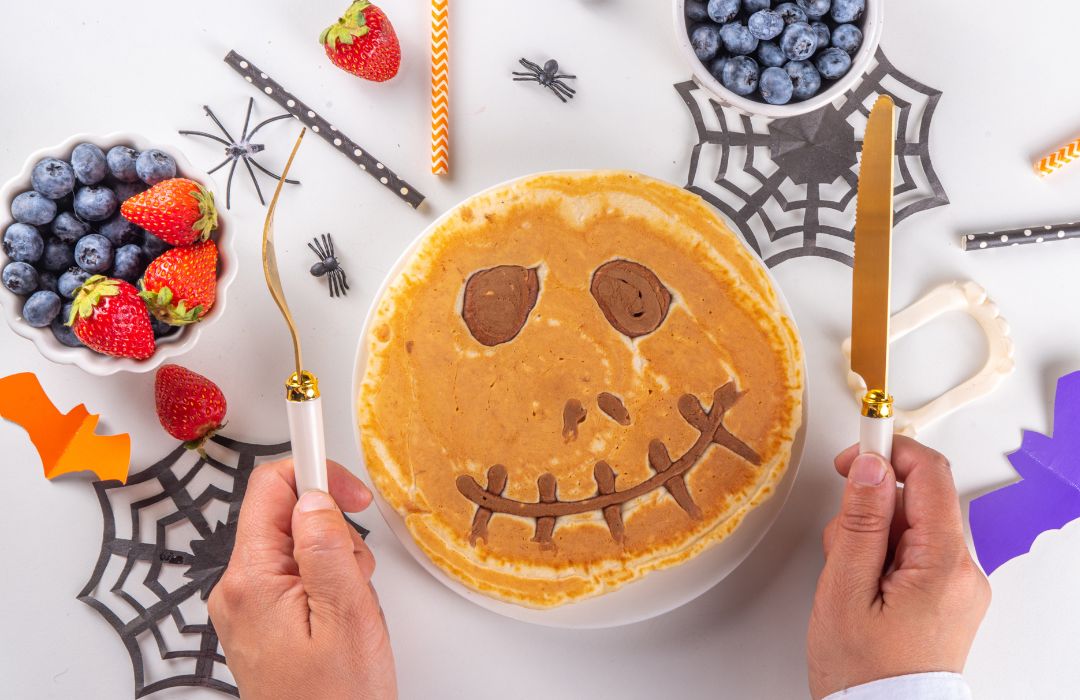 Cast a spell with our 12-inch Crepe Maker as you create shaped treats, ideal for enchanting your guests during spooky gatherings.
Ingredients:
1 cup all-purpose flour
2 tablespoons granulated sugar
2 teaspoons baking powder
1/4 teaspoon salt
1 cup milk
1 large egg
2 tablespoons unsalted butter, melted
Cooking spray or additional butter for greasing the Crepe Maker
Instructions:
Preheat the 12-inch Crepe Maker and set it to a medium heat setting.

In a large mixing bowl, whisk together the flour, sugar, baking powder, and salt.

In a separate bowl, whisk together the milk, egg, and melted butter.

Pour the wet ingredients into the dry ingredients and stir until just combined. Be careful not to overmix; it's okay if there are a few lumps.

Grease the heated Crepe Maker lightly with cooking spray or butter.

Pour a ladleful of the pancake batter onto the Crepe Maker, forming a rough circle.

Use a squeeze bottle or a piping bag filled with batter to carefully draw the outline of a skull. Start with the eyes and nose, then create the skull's distinctive features.

Allow the pancake to cook until bubbles form on the surface and the edges look set, then carefully flip it with a spatula.

Cook the other side until it turns golden brown.

Once cooked, carefully transfer the pancake to a plate.

Serve your spooky and delightful Skull-Shaped Pancakes with your favorite toppings such as fresh fruits, whipped cream, or maple syrup.
Enjoy your delicious and creatively shaped pancakes, perfect for adding a playful touch to your Halloween breakfast or brunch with Holstein Housewares' 12-inch Crepe Maker!
---