Chocolate Bundt Cake with Coffee Frosting Recipe – Holstein + Mundo Delic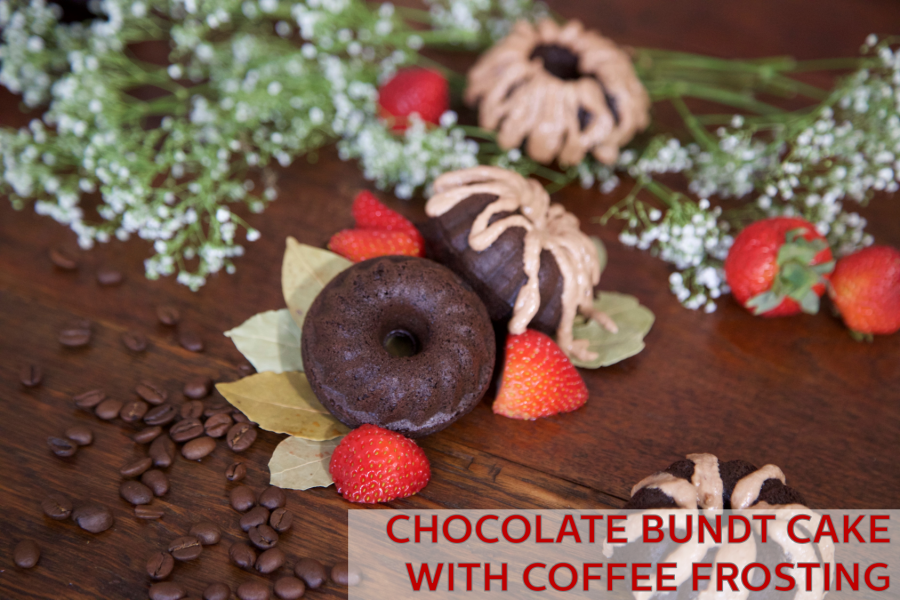 We always love it when our good friends from Mundo Deli come visit us in the Holstein Kitchen and they whip up a super easy & delicious sweet treat.
Everyone's mouth was watering over these chocolate & coffee bundt cakes. The best part of it all is that they are personal sized so you can prepare mini personalized treats in just 7 minutes thanks to your Holstein Bundt Cake Maker!
Watch us make our treats here or scroll down for the full recipe from Mundo Deli.
Chocolate Bundt Cake:
Ingredients:
2 Cups of Sugar
3 eggs
1/2 cup oil
2 cups flour
1 cup of cocoa powder
1 tsp baking soda
1 tsp baking powder
1 cup milk
1 cup boilig water
1/2 tsp cardamom
1 tsp vanilla
Steps:
In a large mixing bowl begin by mixing the eggs with the oil & add the sugar. Make sure to whisk together your ingredients well.
Then in a medium bowl sift together the cocoa, flour, baking soda & baking powder.
Mix together your two mixtures slowly while adding in the milk.
Tip: end with an addition of the flour mix & blend until smooth.
Finish off your mix by adding the vanilla.
 In a sauce pan boil & add the cardamom seeds for 5 minutes.
Then strain the seeds and add the hot water to the mixture.
 Tip: Use your batter bottle to pour the mix into your bundt cake maker.
Pour the batter into your pre-heated maker & bake for 7-10 minutes.
While your cakes are baking, begin preparing your frosting.
Coffee Frosting:
Ingredients:
1/3 cup cream
1 tsp unsalted butter
1 tbsp expresso
1 tsp coffee extract
1 cup chocolate chips
Steps:
In a saucepan, begin by melting the butter and cream & mixing in the coffee.
Pour in your chocolate chips slowly, stirring while they melt.
Lastly add the coffee extract & use a spatula to fold together all your ingredients.
Share with us your favorite recipes on Facebook. Try out this recipe & tag us for a chance to be featured!
---