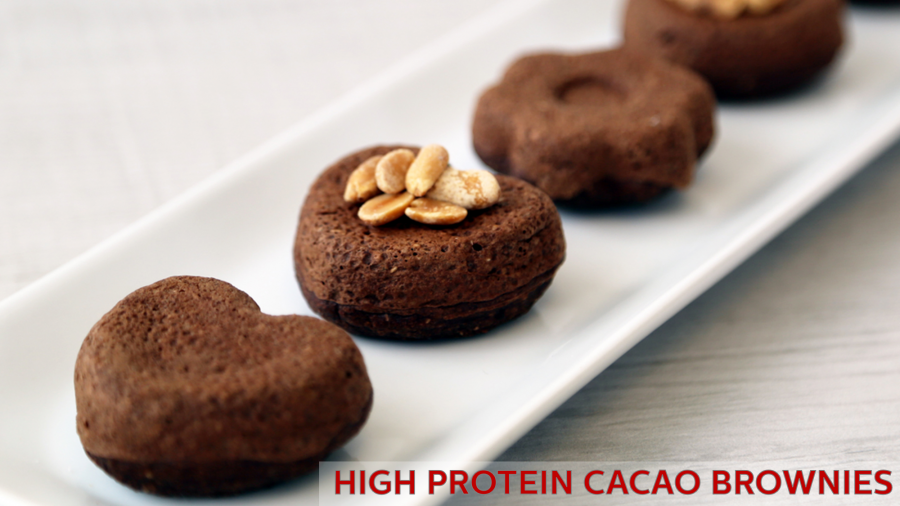 This time our kitchen smelled like a chocolate factory, thanks to Katheryne Cachutt @kabalance who helped us to bake these outstanding High Protein Cacao Brownies. WHO DOESN'T LOVE BROWNIES? We all do, but the only thing is that it is a hyper-caloric dessert, so how about some fudgy, chewy chocolate brownie with less calories and guilt-free?
All of the chocolate flavor comes from cocoa powder, so these brownies are about as easy to make as a box mix! The key to really dark, rich brownies is to use about as much cocoa powder as dry ingredients; in this case chia/ flax seeds and oat flour. This little trick also helps keep them moist and fudgy instead of cakey. And if you want to make these a little more decadent, drizzle warm peanut butter over the top and sprinkle with sea salt. Yummy!
With this easy recipe and  your Holstein Brownie Maker you will delight your friends, kids, or just you; in a really short time with a healthy snack alternative!
Watch us make brownies in this quick video and scroll down for the full recipe.
Be sure to subscribe to our Youtube page for more recipes & cooking tips!
Ingredients:
-1 egg
-1/3 cup of egg whites
-2 tablespoons of Cacao Powder
-1 tablespoon of oat or wheat bran
-1 tablespoon of chia seeds
-1 tablespoon of flaxseed meal
-1 tablespoon of Greek yogurt
-1 teaspoon of baking soda
-Vanilla extract, cinnamon and stevia to taste
Method:
– Mix all the ingredients in a bowl
– Coat the surface of the Brownie maker with Coconut oil spray
– Pour the mixture into the shaped cavities, close the lid, and bake until fully cooked
– Ready to eat!
Holstein tip: Store in the refrigerator and warm in the microwave for 15 seconds if you have left overs
Benefits:
These brownies contain high amount of protein because of the eggs, chia seeds and Greek yogurt. Protein is one of the three "Macronutrients". The body needs relatively large amounts of it because it is considered an important component of every cell.
– Hair and nails are mostly made of protein.
– The body uses protein to build and repair tissues.
– Protein is used to make enzymes, hormones, and other body chemicals.
– It is an important building block of bones, muscles, cartilage, skin, and blood.
Share with us on Social Media your favorite #healthy recipes for a chance to get published! Make sure to use #holsteinkitchen and to subscribe to our YouTube channel for more delicious recipes, how-to videos and cooking/baking tips.
---