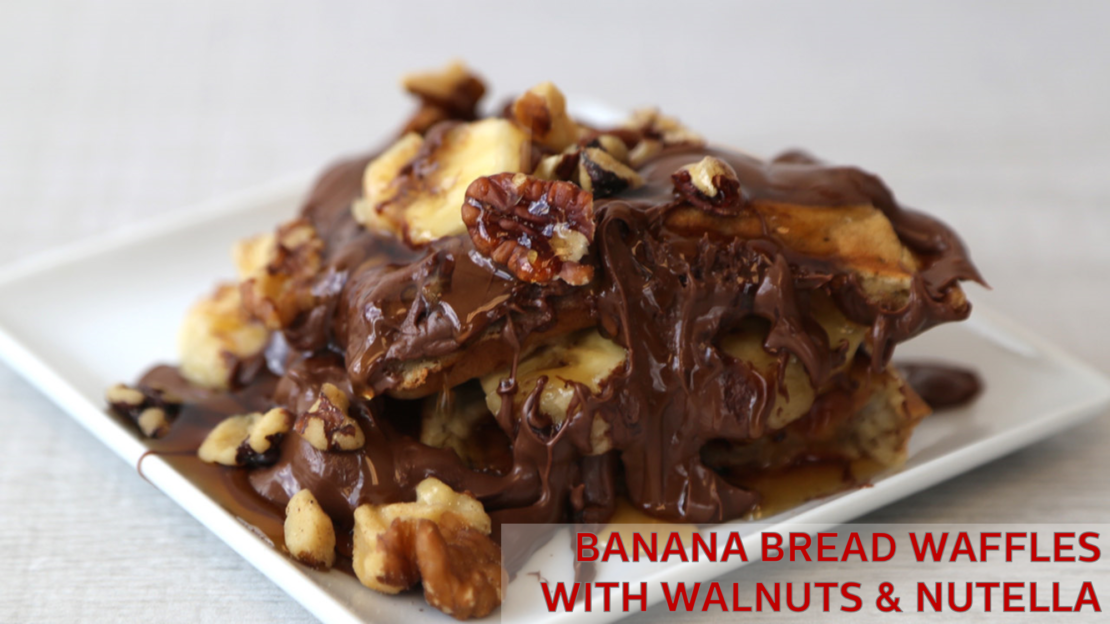 The line between breakfast and dessert just got a little blurry with these Banana/Nutella waffles with a delightful walnut crunch. Casa Gioia @casagioiaus came to our Holstein Kitchen and baked us this irresistible breakfast or is it dessert?! 
Homemade waffles are such a great treat and making them completely from scratch takes maybe 2 or 3 minutes longer than making them with a baking mix. You probably have all of the ingredients you need in your pantry already, so grab some ripe bananas from the store and get whisking!
And if you want a slightly healthier version just substitute some of the all-purpose flour with whole wheat flour and flax seed meal and skip the Nutella…
This recipe is really that easy! It gives you a few minutes to set up your platter with sliced bananas so when the waffles come out of, they're hot and ready to serve, just don't forget to drizzle with warm Nutella, maple syrup and chopped walnuts!
Watch us make belgian waffles in this quick video and scroll down for the full recipe.
Be sure to subscribe to our page for more recipes & cooking tips!
Prep Time: 10 mins
Cook Time: 15 mins
Total Time: 25 mins
Ingredients
-2 cups all-purpose flour
-2 tbsp granulated sugar
-4 tbsp brown sugar
-1 tsp baking powder
-1/2 tsp baking soda
-1/2 tsp salt
-1/4 tsp cinnamon
-pinch nutmeg
-1 1/2 cup milk
-1 cup mashed banana, ripe
-2 eggs
-1/4 cup vegetable oil
-1 tsp vanilla extract
-1/4 cup chopped walnuts
Topping
-Nutella
-Maple Syrup
Method
-In a bowl sift flour, baking powder, baking soda, salt, and spices. Add sugars and chopped walnuts.
-In another bowl mix milk, bananas eggs, oil and vanilla extract.
-Stir the wet ingredients into the dry ones and mix with your until smooth and combined.
-Ladle batter into  your and cook for 8-10 minutes
-Top warm waffles with bananas, Nutella and chopped walnuts
-Enjoy!
Share with us on Social Media your favorite #waffle recipes for a chance to get published! Make sure to use #holsteinkitchen and to subscribe to our YouTube channel for more delicious recipes, how-to videos and cooking/baking tips.
---