Yuca Bites – Holstein Housewares + The Cooking Collaborative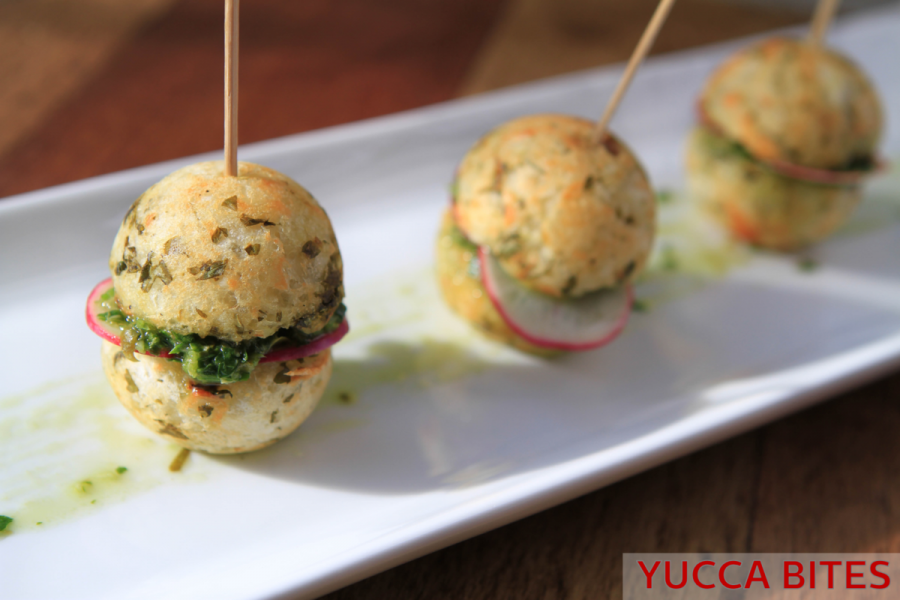 We love when The Cooking Collaborative shows us how to prepare a delicious and savory bite in our 
Cake Pop Maker
. Scroll down for the full recipe plus a bonus recipe of their Chimichurri sauce or watch us prepare ours here.
Yuca Mix Recipe: 
1 cup yucca
3 tbsp rice flour
1 tbsp cilantro
1/4 cup soy milk
1/4 tsp xanthan gum
1 tbsp rice flour
1/4 cup almond meal
1 egg
Chimichurri recipe:
1 cup packed parsley
1/2 cup cilantro
1/2 jalapeno
1/3 red wine vinegar
1/4 tsp cumin
salt & pepper
2 tbsp capers
1/4 cup olive oil
Steps:
Begin by boiling your yuca.
Then take the yuca & your dry ingredients & place them in a food processor. Pulse about 2-3 times.
Then add in the soy milk & egg and blend until smooth.
Once smooth, add some cilantro and chimichurri sauce ontop. You should have a smooth, green mixture.
Using a small spoon, scoop your mix into your maker.
Allow to bake for about 7 minutes.
Use your silicone tongs to remove the bites.
Dip with the Chimichurri recipe included below & enjoy!
Share with us your favorite recipes to prepare in your Cake Pop Maker on Facebook.
---