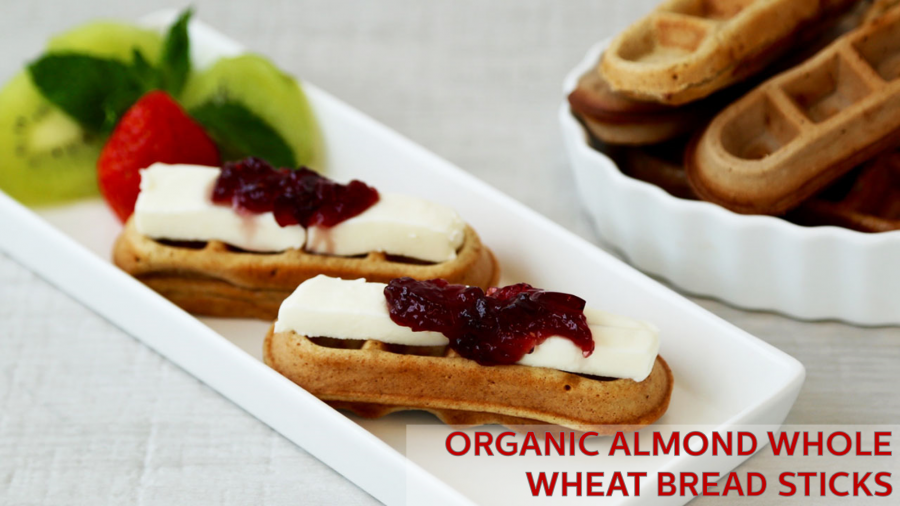 If you are a healthy enthusiast, you can't miss this light, crisp, slightly moist waffle stick recipe! The talented bread-maker Patricia Daboin showed us how you can make breadsticks in minutes using our waffle stick maker. This is a great recipe for a hearty breakfast or even to pack in a lunch box with some fresh fruits. You can also add different spices or chopped nuts into your batter. For a healthier option just substitute the brown sugar for coconut sugar. And for a decadent option add a spoonful of Chocolate Hazelnut spread # yummy. In just minutes you will enjoy a simple, healthier and flavorful meal!
Watch us make waffle sticks in this quick video and scroll down for the full recipe.
Be sure to subscribe to our Youtube page for more recipes & cooking tips!
Ingredients:
• 1 1/2 cups Whole Wheat Flour
• 2 teaspoons baking powder
• 1/2 teaspoon salt
• 2 tablespoons Brown Sugar
• 1 large egg
• 2 egg white
• 1 1/2 tbsp Almond Butter
• 1/3 cup Unsweetened Almond Milk
Method:
-Preheat your Holstein Waffle Stick Maker
-Mix the dry ingredients: flour, baking powder, salt, and sugar
-In a separate bowl, beat eggs, milk, and butter
-Combine all ingredients together with Holstein Electric Mixer until smooth consistency
-Spoon the batter into Holstein Waffle Stick Maker, filling each cavity about 2/3 full
-Allow to bake for 8 minutes or until is light golden brown
Shop this item at: http://www.holsteinhousewares.com/shop/fun-waffle-stick-maker/
Share with us on Social Media your favorite recipes for a chance to get published! Make sure to use #holsteinkitchen and to subscribe to our YouTube channel for more delicious recipes, how-to videos and cooking/baking tips.
---