Rosemary & Parmesan Waffle Sticks- Holstein + Jmou Sweets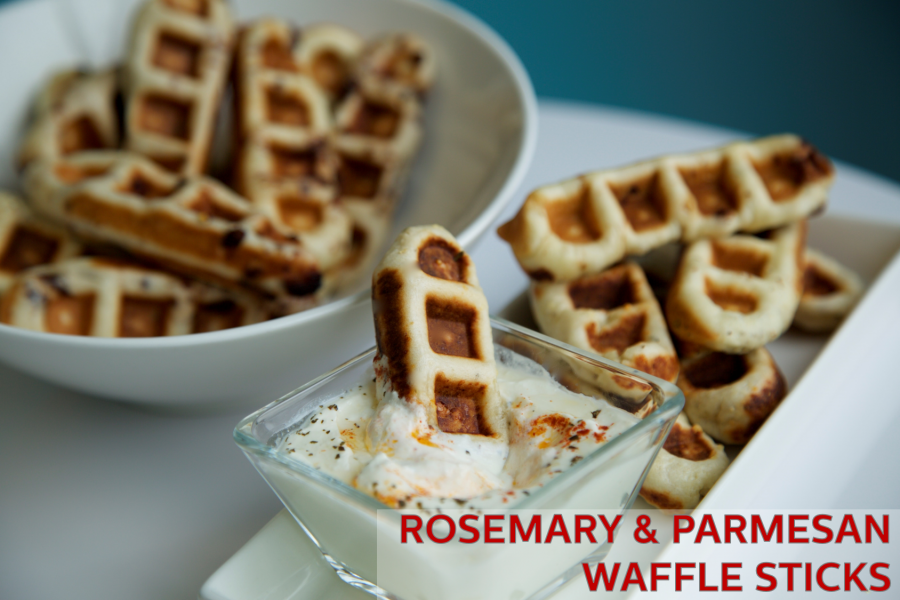 Our Waffle Stick Maker isn't just for making a sweet breakfast on the go. Our friends at Jmou Sweets join us in the Holstein Kitchen to show us how to prepare Rosemary & Parmesan Waffle Sticks. These are a fun twist on the traditional bread sticks & they only take 5 minutes to bake!
Watch us prepare ours in our Holstein Waffle Stick Maker or scroll down for the complete recipe.
Ingredients:
1 ½ cup flour
2 tbsp. of sugar
2 tbsp. of oil
1/2 tsp. yeast
1 tablespoon baking powder
Pinch of salt
½ cup water (approx.)
Flavoring:
1 tbsp. oregano
2 tbsp. Parmesan cheese
Steps:
In a large mixing bowl begin by sifting together your dry ingredients. Once your ingredients are well mixed, gradually add in the water & oil.
You will want to knead the ingredients together until you have a smooth dough. This should take you approximately 5 minutes.
Then take a paper towel or kitchen cloth and cover the bowl. Let the dough sit for 20 minutes at room temperature.
Next dived the dough in half and mix in the oregano and parmesan cheese.
The dough into about 8 balls for each of the halves and roll them out into an elongated shape.
Once your Waffle Stick Maker is done pre-heating, place the dough carefully over each of the cavities.
Bake for 5 minutes or until golden brown.
We hope you enjoyed this episode of Holstein kitchen, check back with us for more recipe tips & ideas. Make sure to subscribe to our YouTube channel & like us on Facebook.
---