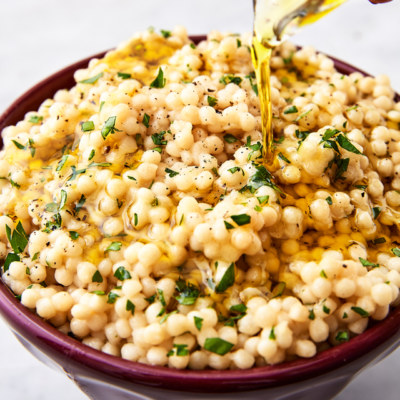 Using our multiport for a variety of recipes is always fun! We tried this amazing recipe from Makenzi Gore, for Lemon Herbs Couscous and it came out tangy and fluffy.
Ingredients:
1 cup of couscous
1 1/2 cup low-sodium chicken broth
2 tbsp. extra-virgin olive oil
2 tbsp. freshly chopped parsley
2 tbsp. freshly chopped parsley
Juice 1/2 lemon (2 tbsp.)
Salt and pepper to taste
Pinch red pepper flakes
Instrucctions:
Rinse couscous under cold water until water runs clear.
Pour the broth in the multipot and bring it to a boil.
Carefully add the couscous, cover with lid and turn off the multipot.
Allow couscous to steam for about ten minutes, then fluff with a fork.
Add oil, lemon juice, and parsley. Season with salt, pepper, and a pinch of red pepper flakes.
Alternative:
When the couscous is ready, allow to cool to room temperature, and use to create Greek salad or a tabbouleh.
Add oil, salt and pepper to add to any dish as a side.
---