Chocolate covered Banana Bundt Cakes- Holstein Housewares + Cake Art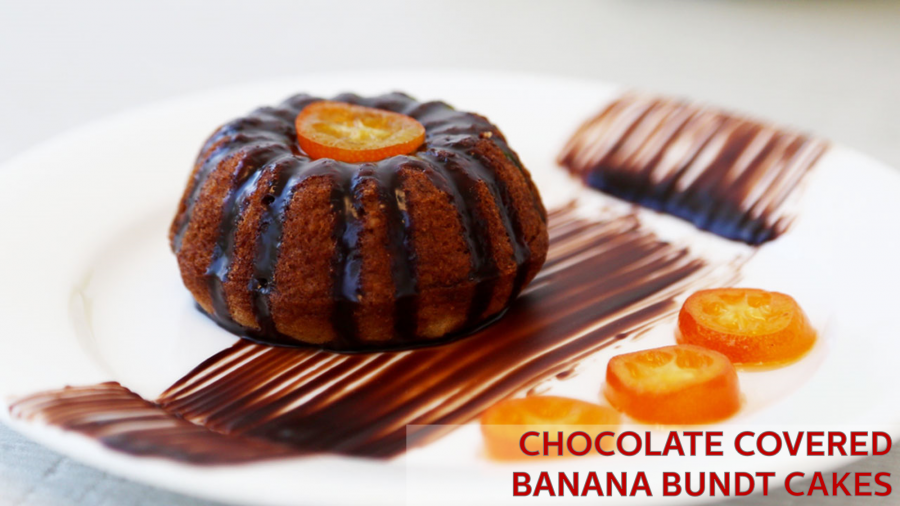 Our friends from Cake Art  @cakeartshop joined us in the Holstein Kitchen to make some mouthwatering bundt cakes. These chocolate covered Banana Bundt Cakes are ideal to serve at a brunch or as an after-school snack! The recipe is quick and easy. It only takes 7 minutes to bake and you can skip the chocolate ganache for a healthier option or serve with ice cream for an indulgent treat.
Watch the quick video for how to make these delicious treats and scroll down for the full recipe and instructions.
Ingredients:
3 mashed bananas
20ml whole milk
2ml white vinegar
245grs caster sugar
100grs light brown sugar
3 eggs
150ml vegetable oil
350grs all-purpose flour
Pinch of salt
8grs baking soda
8grs baking power
5grs cinnamon powder
100grs chopped walnuts
Method:
– Mix with Holstein's Hand Mixer the mashed bananas with the granulated sugar and the brown sugar
– Add the vegetable oil, milk, white vinegar and eggs and beat well until is combined
– In a mixing bowl, sift the flour, baking powder, baking soda and cinnamon powder together
– Mix gently the flour mixture into the banana mixture until is well combined. Add the walnuts.
– Turn on Holstein's Bundt Cake Maker and cook for about 6-7 minutes, or until is light golden brown.
– Cover with the chocolate ganache
Ingredients (Chocolate Ganache):
200grs dark chocolate
175grs heavy cream
50grs softened unsalted butter
5grs vanilla bean paste
Method (Chocolate Ganache):
– In a small saucepan, mix the heavy cream and the vanilla bean paste and bring it to light boil.
– When it starts to boil, pour over the chopped chocolate and butter and mix well until combined.
– Let it cool in room temperature and pour over the Bundt Cakes.
Shop this item at: http://www.holsteinhousewares.com/sho…
Share with us on Social Media your favorite recipes for a chance to get published! Make sure to use #holsteinkitchen and to subscribe to our YouTube channel for more delicious recipes, how-to videos and cooking/baking tips.
---