How to Make The Best Eggnog Coffee for the Holidays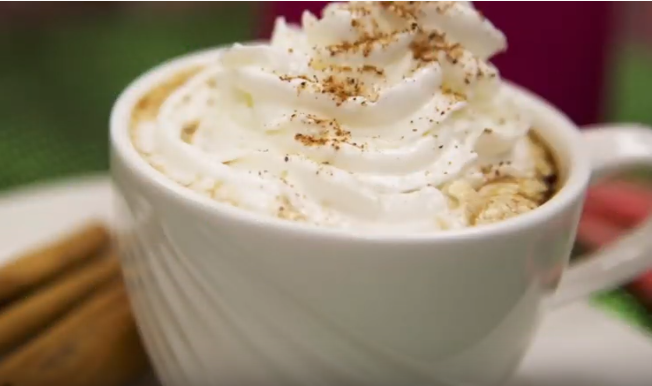 Today let's toast with one of the world's best holiday drinks: eggnog coffee!
Can you think of a better or tastier drink to go with your dessert (or to enjoy as a dessert)?
For the quick recipe just watch the video below (or scroll down for step-by-step instructions with pictures):
This drink is sure to delight off of your holiday guests!
Step 1: Prepare Your Ingredients
As always, the first step is to gather up your ingredients. This recipe calls for just a few of the basics that you probably already have around the house:
1 pinch of cinnamon
1 pinch of nutmeg
1 tsp of sugar
1 tsp vanilla extract
1/2 cup of milk
1 egg
2 shots of espresso
Don't worry about your exact pinch size. Just a go with what feels natural and you will be fine. You can always adjust for the second cup if necessary!
Step 2: Mix Ingredients in a Bowl
Next mix up your ingredients in a bowl. We recommend using a silicone whisk.
Step 3: Pour Your Eggnog Mix into a Cup
In this next step you'll want to pour your mixture into a coffee cup. Simple as that!
Step 4: Add Two Shots of Espresso and Enjoy!
And finally just add two shots of espresso. You can add more if you're an espresso lover but don't hold us accountable when you're bouncing off the walls!
If you're wondering, all of the products used in this tutorial are made by Holstein and can be bought from places like Amazon, HSN, Kohls and more.
Here are a couple of other recipes you might like:
Do you have a creative holiday recipe to share? If so, post about it on our Facebook Page and we may include it in our next blog post! 
---