Fresh Strawberry Cupcakes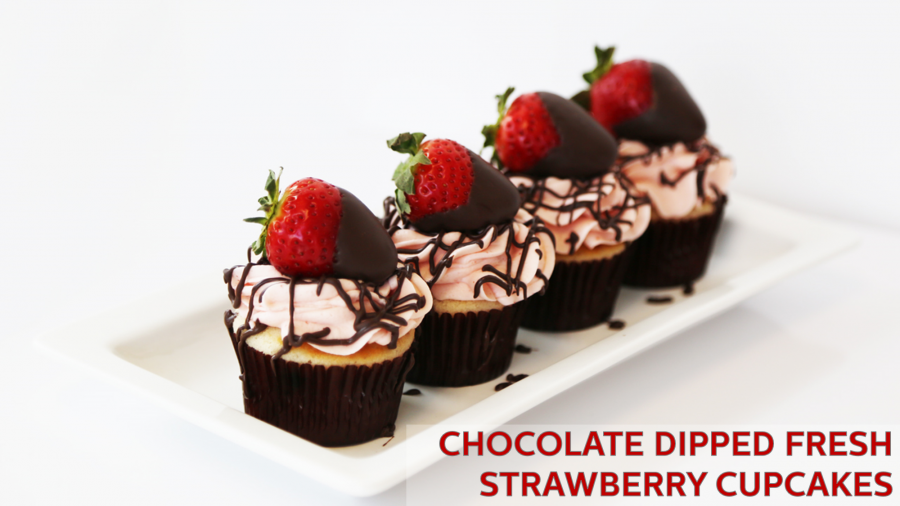 Miami Local Ali's Sweet Treats @alissweettreats joined us in the Holstein Kitchen to show us how to bake fresh seasonal strawberry cupcakes. These Chocolate dipped Fresh Strawberry Cupcakes were amazingly moist and ideal to surprise your significant other with a homemade treat. Who said Valentine's Day is the only day to celebrate romance?!
The recipe is quick and easy! Use Holstein Cupcake Maker and in less than 10 minutes you will enjoy a perfect mix between the fresh and tangy chopped strawberries in the cupcake and pureed strawberries in the velvety icing!
Watch us make strawberry cupcakes in this quick video and scroll down for the full recipe.
Be sure to subscribe to our Youtube page for more recipes & cooking tips!
Strawberry Cupcakes
Ingredients:
150 grams All Purpose Flour
1 & 1/8 cup of sweet cream butter
3/4 cup granulated sugar
1/2 cup chocolate chips
1/4 cup finely chopped strawberries
1/8 tsp Salt
1 tsp Baking Powder
80 grams Whole Milk
1 tsp Pure Vanilla Extract
Method:
-In a large bowl, beat together with your Holstein Electric Mixer the white sugar, butter and the chopped strawberries, until well combined
-Slowly begin to mix in the egg whites and the whole egg
-Add gently the whole milk
-Stir in flour, salt, baking power and vanilla
-With a spatula, fold gently the chocolate chips into the flour mixture until is well combined
-Spoon the batter into your Holstein Cupcake Maker, filling each cavity about 2/3 full
-Allow to bake for 8 minutes or until is light golden brown
– Frost each cupcake with about 2 tablespoons of icing, and top each cupcake with a strawberry and chocolate.
Strawberry Frosting
Ingredients:
2 Sticks unsalted butter
1/4 tsp salt
4 cups powdered sugar
3 tablespoons Strawberry Puree
1 tsp vanilla extract
Method:
– In a medium bowl, mix in the unsalted butter, salt, powdered sugar, vanilla and strawberry puree; with spoon or Holstein Electric Mixer on low speed until fluffy and creamy.
Shop our Holstein Cupcake Maker at: http://www.holsteinhousewares.com/shop/12pccupcakemaker/
Share with us on Social Media your favorite recipes for a chance to get published! Make sure to use #holsteinkitchen and to subscribe to our YouTube channel for more delicious recipes, how-to videos and cooking/baking tips.
---